A great way to save money on groceries is by using printable coupons. You don't have to purchase a Sunday newspaper to get the coupons. Plus — most of the time the coupons can be printed TWICE!
Here's a list of coupons that we found for you to print today!
FEATURED COUPONS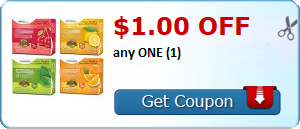 COUPONS.COM
$0.55 off ONE Minute Maid Orange Juice
$0.75 off One Panko Bake Seasoned Coating Mix
$0.50 off One Stella cheese wedge or cup
$4.00 off ONE Dulcolax 50 or 100 count
$5.00 off FreeStyle Precision Neo meter
$1.00 off Viva or Viva Vantage Paper Towel
$1.00 off any 1 Zebra Pen Writing Instrument
SAVING STAR
Save 20% on any single purchase of loose Green Peppers at participating retailers. See offer info for complete details. Check back every Tuesday for a new Healthy Offer..Expires 12/14/2015.Save 20%.
SMARTSOURCE
Save $1.50 on any TWO (2) Bertolli® Riserva Sauces (15oz or 24oz only – no twin packs and multipacks)
Save $1.00 on ONE (1) Price*s Southern Style Pimiento Cheese Spread 11oz
HOPSTER

$0.30 on any ONE (1) PAM® Cooking Spray
$1.00 off of one (1) Barbara's product 4.4oz. or larger
$2.00 off two (2) 5oz Pasta Chips Bags
$1.00 off any one (1) Once Again Nut Butter product
$3.00 off any one (1) Probiotic Pearls Product from Enzymatic Therapy®
Save $2.00 on any ONE (1) Fiora® Bath Tissue, 8-roll or Larger
$2.00 off any one (1) Yummi Bears® or Slice of Life® Sugar Free Gummy Vitamin product
Save $1.00 on ANY TWO Pennsylvania Dutch® Noodles
IBOTTA
Earn $2.00 when you purchase Hyland's® 4 Kids Bumps 'n Bruises with Arnica
Earn $1.50 when you purchase Hallmark Ornaments
Earn $1.50 when you purchase Hallmark Ornaments
Earn $2.00 when you purchase Boiron® Sinusalia® tablets
Earn $0.75 when you purchase Clorox® ThickCling™ Cleaning Bleach
Earn $1.00 when you purchase Farm Rich® Smokehouse™ BBQ Products
Earn $10.00 when you purchase Spend $100 at Lane Bryant
Earn $1.25 when you purchase Banquet® Meals
Photo credit: Flickr — reynermedia